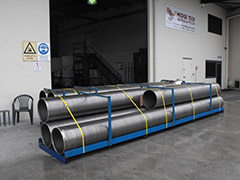 We manufacture a comprehensive range of Bore Screens to suit all standard steel pipe sizes as well as supplying sealing tubes and adaptor sleeves to fit your bore screen to a P.V.C. casing.
Sealing tubes and sleeves are manufactured on request to fit any odd size casing at no extra cost.
Our screens are manufactured with a high degree of slot tolerance. We will design your screen in accordance with your depth setting, ensuring a sufficient collapse pressure. Attention to detail is observed in all instances. Weld strength is exceptionally high. Speedy service is guaranteed, if you do not wish to use our transport company we will be happy to use one of your choice.
Advantages of Wedge Wire Well Screens
Very high open area (up to 9 times higher than slotted casing)
Non-Clogging slot
Minimal Pressure Drops
Less energy required for pumping
Increased Flow Rates
Smaller slots ensuring less sand to get through
Well Screen Configurations
| | | | |
| --- | --- | --- | --- |
| With Sleeve | With Bevel And Weld Rings | With K-Packer | With Conical Sleeve |
| | | | |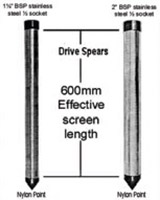 We also manufacture lowering spears or driving spears to your requirements. In addition to bore screens and spears, we manufacture suction strainers with your choice of B.S.P. connection. Your choice of aperture can be achieved for any screen size or application.
Whatever your situation calls for, we can provide you with a variety of Well Screen configurations designed to your own specifications.