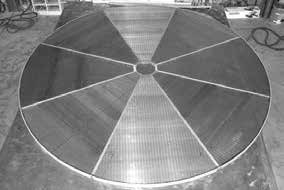 Generous fabrication facility on our premises allows us to supply a large range of Specialty Screens with relatively short lead times. Our fabrication staff are all trade qualified with many years of screen fabrication experience.
Along with our design flexibility, we will work hand in hand with our customers to achieve the best possible results, with often tight budget restrictions and stringent quality requirements.
Whether you need an architectural custom lighting screen, reactor internal screens or resin traps, we are confident that we can provide you with a cost effective solution.