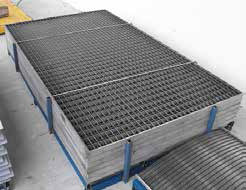 Applications for wedge wire screen panels include vibrating or static screen decking, mineral processing, surface water intake screens, fish diversion screen panels, hatchery screens, food processing, flooring for malt kiln, germination, and grain drying to name a few.
Flat wedge wire screen panels can be constructed using rectangular support rods or round support rods. Flat wedge wire screen panels can be designed to maximise the open area, strength and wear life to suit any application.
Apart from the industrial uses associated with flat screen panels, they are also used in a wide range of architectural situations such as floor grates to cover water runoff drains in driveways, car parks, shopping centres and malls. They can be constructed to carry pedestrian traffic, or much heavier traffic such as forklifts or standard vehicular traffic. These grates are designed and manufactured to your site specific requirements.
Wedge Tech adheres to AS3996 Load Standards up to Class D.
A variety of support frames and troughs are available for your drainage needs. Grates can be made to fit existing frames or troughs or we can simply design to suit your requirements.
| | | |
| --- | --- | --- |
| Class A | 10 KN | Pedestrian/Foot Traffic – Light Duty |
| Class B | 80 KN | Light Vehicle Traffic – Light to Medium Duty |
| Class C | 150 KN | Vehicle Traffic High Use – Medium Duty |
| Class D | 210 KN | Heavy Vehicles – Heavy Duty |