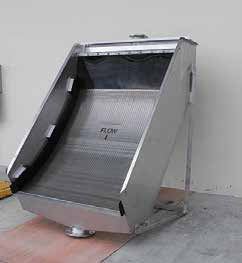 The Sieve Bend is also known as a DSM Screen after the Dutch State Mines introduced the product. Sieve Bend Screens are ideal for sizing and dewatering applications to remove solids from liquids, or in solid/solid separation for dry feed situations.
Sieve Bend Screens can be manufactured in a variety of widths, arc lengths, apertures or wedge wires to suit the flow rate and material being separated. Although most applications require Static Sieve Bends, "Cross Flow", "With Flow" and "Vibrating" Sieve Bends can also be manufactured.
The feed slurry is directed vertically and tangentially over the full width of the upper screen surface. The slurry flows down the concave surface at right angles to the openings between wedge profiled wires. Due to the drag on the slurry passing over the wedge wire, a thin layer on the underside is deflected and passes out between the wires. The fact that the size of particle passing through the screen is always smaller than the opening, gives the screen good non-clogging properties.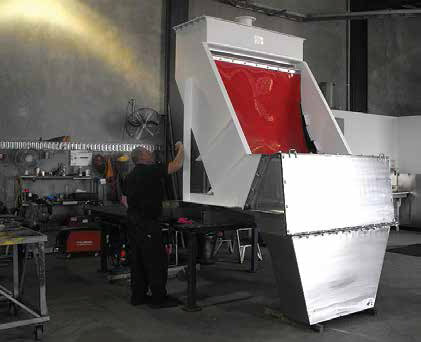 In a typical feed situation the leading edge of the wedge wire removes the water and fine particles through the screen up to the cut point size, as the oversized particles move across the top of the screen. Static Sieve Bends require little or no maintenance in their operation and need only small head heights to operate.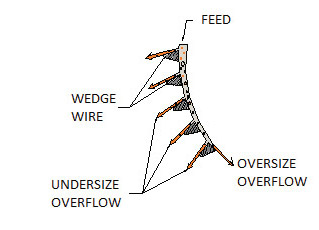 | | | | |
| --- | --- | --- | --- |
| WTAQS1018R600 | 600 x 1018 x 45 | 786 x 900 x 1200 | 140 |
| WTAQS1018R900 | 900 x 1018 x 45 | 1086 x 900 x 1200 | 180 |
| WTAQS1018R1200 | 1200 x 1018 x 45 | 1386 x 900 x 1200 | 225 |
| WTAQS1018R1500 | 1500 x 1018 x 45 | 1686 x 900 x 1200 | 265 |
| WTAQS2036R900 | 900 x 2036 x 45 | 1086 x 1400 x 2100 | 325 |
| WTAQS2036R1200 | 1200 x 2036 x 45 | 1386 x 1400 x 2100 | 395 |
| WTAQS2036R1500 | 1500 x 2036 x 45 | 1686 x 1400 x 2100 | 455 |
| WTAQS2036R1800 | 1800 x 2036 x 45 | 2040 x 1400 x 2100 | 755 |
| WTAQS2036R2100 | 2100 x 2036 x 45 | 2340 x 1400 x 2100 | 835 |
| WTAQS2036R2400 | 2400 x 2036 x 45 | 2640 x 1400 x 2100 | 920 |
| WTAQS2036R2700 | 2700 x 2036 x 45 | 2990 x 1400 x 2100 | 1,035 |
| WTAQS2036R3000 | 3000 x 2036 x 45 | 3290 x 1400 x 2100 | 1,120 |